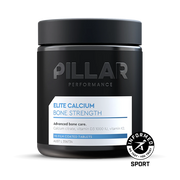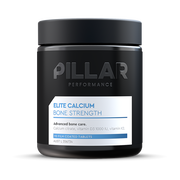 ELITE CALCIUM
Description

ELITE CALCIUM features a clinical blend of nutritional co-factors, calcium, vitamin K2 & vitamin D3, to support bone mineral density, achieve optimal calcium absorption.

Clinically developed as a potent one per day tablet, ELITE CALCIUM uses calcium citrate tetrahydrate – an easily digested and absorbed form of calcium – with menaquinone-7 vitamin K.

Vitamin K2 is often the forgotten hero within mixed bone supplements.  Vitamin K2 has the ability to balance and optimise calcium usage, promoting arterial flexibility by preventing the accumulation of calcium in the cardiovascular system and enhanced distribution across the body and into bones.
Key Features

Developed with vitamin K2 in the form of menaquinone 7.
Calcium citrate 1376 mg and Vitamin D3 1000 IU.
Supports bone health.
Supports bone mineralisation.
Can also assist maintaining healthy muscle function.
90 film-coated tablets.

A Product Fact Sheet is available for download above.
Ingredients

Each film-coated tablet contains:

Calcium citrate tetrahydrate - 1376 mg
equiv. calcium - 290 mg

Menaquinone 7 (vitamin K2) - 90 mcg

Colecalciferol - 25 mcg
equiv. vitamin D3 - 1000 IU
How to use

Adults: Take one (1) tablet per day with food or as directed by your healthcare professional.

If symptoms persist, consult a healthcare professional.
Vitamin supplements should not replace a balanced diet.
Do not use if seal is broken. Store below 30˚C.
Dietary

Vegan.
Free from gluten, dairy, nuts, soy and egg.
Testing Certificate

ELITE CALCIUM is Informed Sport Certified.

To obtain the relevant Batch Certificate for this product, head to our Batch Certificate Library and search for your product's batch number to find the corresponding certificate.

For any questions in relation to our certified products, please email testing@pillarperformance.com.au
Frequently Asked Questions
How much calcium intake is recommended per day?

To ensure adequate levels of calcium are present in the blood without drawing from the bones, individuals must consume 1000-1500mg daily. This can pose challenges for those that are lactose intolerant, have specific dietary requirements and/or underlying conditions that serve as an obstacle to calcium absorption.
How do vitamin D and vitamin K help absorb calcium?

Deficiencies in vitamin D have been linked to increased vulnerability in muscle and bone related conditions, such as increasing one's risk of osteopenia, precipitating and exacerbating osteoporosis, and increasing muscle weakness. This is because vitamin D plays a synergistic role in supporting the absorption of calcium. Similarly, vitamin K – also a fat-soluble – is intricately involved in a positive feedback loop with vitamin D, whereby vitamin D promotes the production of Vitamin K dependent proteins.
What are some of the impacts of calcium deficiency?

Along with the formation and maintenance of bones and teeth, Calcium is required to maintain normal heart rhythm, muscle contractions, nervous system transmission and is necessary for blood to clot adequately. Your body precisely controls the level of Calcium in the cells and blood to ensure a steady level of calcium. If you do not consume enough calcium, it is then mobilised out of the bones – which weakens them and can lead to osteoporosis.
What's the best form of calcium for absorption?

Calcium citrate is one of the most readily absorbed, and well tolerated forms of calcium. Another popular type of calcium, calcium carbonate contains higher amounts of elemental calcium, but requires stomach acid for absorption and must be taken with food. This is both inconvenient, particularly for athletes with specific feeding schedules, and can often cause gastrointestinal upset, such as mild constipation or feeling bloated.
When's the best time to take calcium for performance outcomes?

Calcium reduces the effectiveness of magnesium, so for optimal results, it's recommended to take this in the morning or during the day with a meal. Studies have shown that caffeine slightly reduces calcium absorption, so timing is best 1-2 hours away from coffee intake.
Ideal for someone that doesn't get much sun or low calcium intake
This has been a life saver. As someone that works indoors all day and doesn't get enough calcium in their diet ELITE CALCIUM is helping fill that gap to keep my bones strong. Highly recommend!
Excellent product will def keep
Excellent product will def keep using it!!!
Body is feeling great
Bones are starting to feeling much nicer and no more shin splints