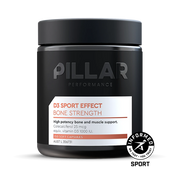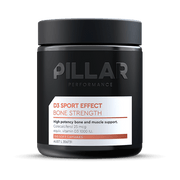 D3 SPORT EFFECT
Description

D3 SPORT EFFECT is developed to provide high-strength nutritional support for the maintenance of a healthy skeletal system.

Formulated with extremely high-strength dosage of cholecalciferol (vitamin D3) to help ensure optimal immune function, muscle recovery and absorption of calcium and other nutrients into the body, D3 SPORT EFFECT is ideal when training conditions do not provide optimal exposure to sunlight.
Key Features

High strength vitamin D3 1000IU per capsule.
Supports bone health.
Support bone mineralisation.
Vitamin D helps calcium absorption.
Can assist in maintaining healthy muscle function.
150 soft gel capsules

A Product Fact Sheet is available for download above.
Ingredients

Each soft-gel capsule contains:
Colecalciferol - 25 mcg
equiv. vitamin D3 - 1000 IU
How to use

Adults: Take one (1) capsule per day with food or as directed by your healthcare professional.

If symptoms persist, consult a healthcare professional.
Vitamin supplements should not replace a balanced diet.
Do not use if seal is broken. Store below 30˚C.
Dietary

Free from gluten, dairy, nuts, egg and sugar.
Contains soy derived substances.
Testing Certificate

D3 SPORT EFFECT is Informed Sport Certified.



To obtain the relevant Batch Certificate for this product, head to our Batch Certificate Library and search for your product's batch number to find the corresponding certificate.

For any questions in relation to our certified products, please email testing@pillarperformance.com.au
Frequently Asked Questions
Why is vitamin D considered a hormone?

Vitamin D is not a 'true vitamin', it's actually a hormone. This is because once the ultraviolet B radiation from the sun penetrates our skin's epidermis, our body begins the production of vitamin D, or specifically vitamin D3. Understanding this helps to explain why it's inextricably tethered to so many biological functions.
Does vitamin D help with immune function?

There have been multiple studies that have correlated low vitamin D levels with increased infection and we now understand that vitamin D modulates both our innate and adaptive immune responses. This also ties into our understanding of the role seasons have in our fluctuating immune susceptibility. The cold weather we experience in winter doesn't inherently cause a surge in influenza, but rather, the shorter days, decreased sunlight exposure leads to one thing – significantly less vitamin D – a biological breeding ground for illness susceptibility.
Does vitamin D help me absorb calcium?

Deficiencies in vitamin D have been linked to increased vulnerability in muscle and bone related conditions, such as increasing one's risk of osteopenia, precipitating and exacerbating osteoporosis, and increasing muscle weakness. This is because Vitamin D plays a synergistic role in supporting the absorption of calcium in to the body.
Don't I get enough vitamin D from the sun?

Getting consistent sunshine isn't always easy for people living in an area with significant seasonal weather changes or for those who spend long hours working indoors; other biological variables include gender, age, body mass and race.
When's the best time to take vitamin D for performance outcomes?

Vitamin D is fat soluble, so it's best taken with a meal that contains some fat. Given that it also boosts the absorption of calcium, these two should be taken together in the morning. Pay attention to consistent intake especially over the winter months.
Great products and quick delivery
Great product
Really happy with my D3 from pillar. Love that it's batch tested too
Didn't think I needed it.
Great
This product is great, I'm sold and will be coming back for more!
Highly Recommended
Very easy to take it to help give strength to my bone